Personal Injury Causes and Compensation – Infographic
Did you or a loved one suffer a personal injury? If so, you are not alone. Every year, millions of people are involved in a personal injury accident. According to the National Center for Health Statistics, there are approximately 31 million emergency room visits every year for unintentional injuries requiring medical treatment.
What Exactly is Personal Injury?
You've probably heard the term "personal injury" many times, but what exactly does it mean? A personal injury applies to any injury that results from another person's negligence, intentional acts, or strict liability. Some of the most common causes of personal injuries are slip and falls, construction accidents, industrial accidents, maritime accidents, defective products, and motor vehicle accidents.
The Impact of a Personal Injury Accident
Personal injury accidents can be traumatic and have a significant impact on a person's life. Injuries suffered in an accident can not only cause physical pain, but emotional and financial hardship as well. Personal injury law is designed to protect you if you are injured or harmed because of another person's actions.
Financial Compensation You May Be Eligible to Receive
If you are involved in a personal injury accident, you have the legal right to purse financial compensation for your injuries and losses. You may receive compensation for medical treatment, lost income, property damage, psychological counseling, and pain and suffering.
The Philadelphia personal injury lawyers at Freedman & Lorry, P.C. share this infographic about personal injury accidents and the compensation you may be entitled to after an injury.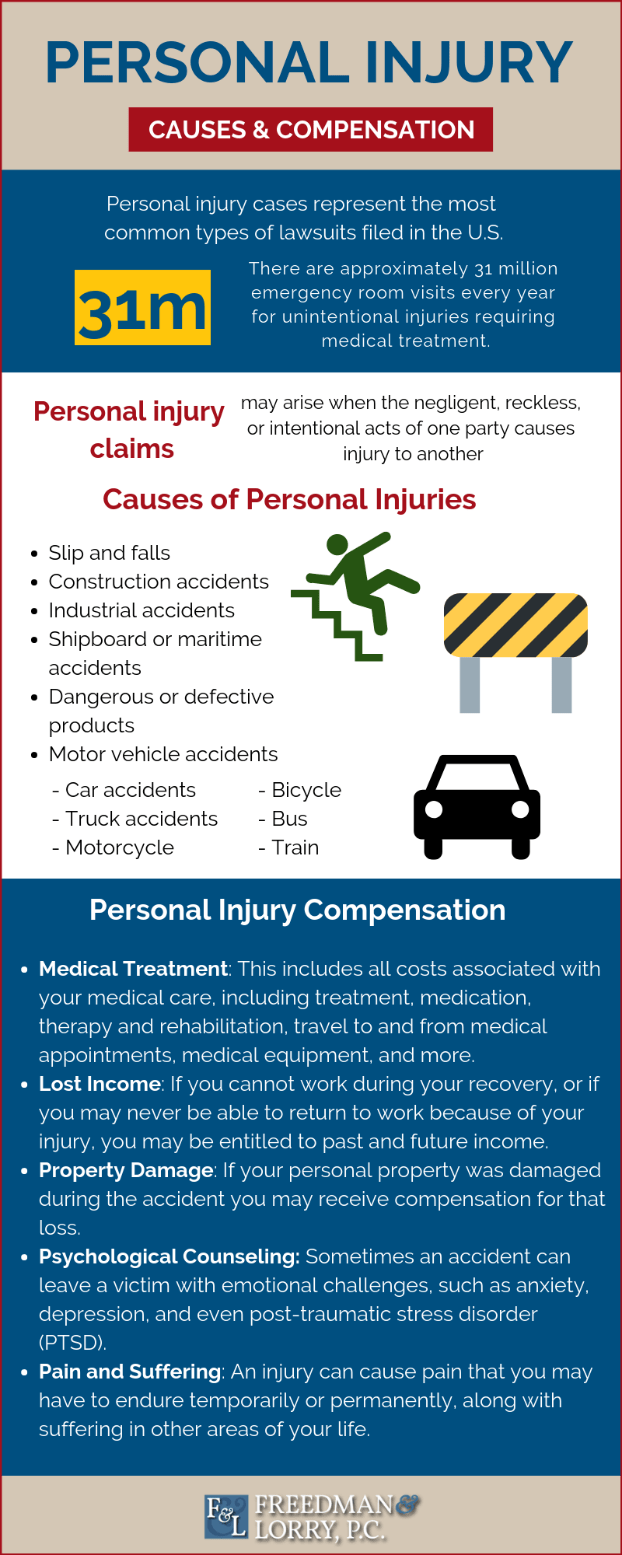 If you've been injured in an accident, we can help. Our legal team is knowledgeable about all types of personal injury claims and dedicated to helping victims and their families receive compensation for their injuries. To schedule a free consultation, contact us online or give us call us at 888-999-1962 today.